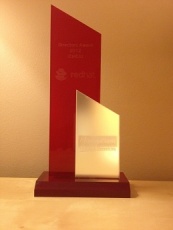 The 'Directors Award' for fiscal year 2012 has been given to Perception.
According to Mr. Jens Ziemann (Director, Global Learning Services EMEA);
"The Directors award is being given to a partner who has not just performed commercially (total performance and growth rate) with excellence but also carries out our corporate values into the local market/economy/community - things like commitment, transparency, openness and trust.
In your case I especially honor your willingness to invest into our partnership and developing the Turkish training market, in upskilling staff and delivering beyond the pure RHCE program, sending instructors to our courses in Europe in order to get ready for delivery.
Another point is your contribution around the Turkish translation and ongoing maintenance of our Exams which gives our Turkish customers the opportunity to take our exam in their mother language."